My Green Commitment
At By Jo, I create fabulous, functional and eco friendly wedding stationery for couples in South Wales and the UK.
It's well documented that, generally, weddings are not particularly eco friendly. The average wedding produces one third of a metric tonne of solid waste and 14.5 tonnes of carbon dioxide*. Now, I know I can't change that overnight, but I would like to to show you how to make your wedding a bit less wasteful and a little more eco friendly.
Eco friendly wedding stationery – super stylish and sustainable
It is my mission to show couples in South Wales and the UK that handmade wedding invitations and stationery can be not only beautiful and functional, but sustainable and eco-friendly too.
As a business I promise to:
1. Encourage you to consume consciously and buy only what you need
My top priority is to avoid waste as much as possible. I will always advise you on exactly what and how much stationery you need for your wedding. I have a low minimum order, so you should never have to buy more than you will use.
2. Use sustainable and recyclable materials to create eco friendly wedding stationery
All wedding invitations and stationery items will be made out of recycled or sustainable materials. They will be easily recyclable and will create as little waste as possible.
Paper, card & envelopes are recycled materials or FSC certified (from responsibly managed forests). All are easily recyclable at home.
Printing onto plantable seed paper for many wedding stationery items. This is 100% tree free and naturally biodegradable.
Embellishments are carefully chosen to be plastic free and easily recyclable or reusable.
Consumables such as printer ink, tape, glue etc are the most environmentally friendly option available.
Used wedding invitations and stationery can easily be recycled at home.
3. Use plastic free, recyclable packaging for my eco friendly wedding stationery
I use plastic free, easily recyclable card boxes with recycled, recyclable tissue paper and paper labels to pack my finished stationery. Where necessary I use compostable paper tape. You can easily recycle this packaging at home.
For orders being delivered by post or courier, I often reuse cardboard boxes from incoming materials. If you find plastic bubble wrap in your order it will be repurposed and not bought new by me.
Please be mindful about how you dispose of this packaging. Cardboard and paper can be easily recycled, bubble wrap can either be reused or often recycled with carrier bags at supermarkets (please check at your local store). I am continuously working with my suppliers to minimise (in particular plastic) packaging on the raw materials that I buy in.
4. Minimise and manage waste responsibly
I always minimise any waste in my production process. Anything that can't be reused is either composted, recycled, donated. For example:
I use paper & card offcuts to make smaller items of stationery like bellybands, tags, place cards, or use them around the studio as file labels and notepaper. Anything I can't reuse is donated to a local nursery or responsibly recycled.
Internal paperwork (order forms, quotes) and waste paper is shredded and recycled or composted.
Incoming packaging is either reused or recycled.
Ink cartridges and their packaging are recycled.
5. Educate, inform & encourage recycling
With all my invitations and stationery I include instructions on how to safely recycle or dispose of them after use (as well as any packaging used to transport them). This information can also be printed (in a discreet but visible way) on each item, so that the recipients can be informed as well.
6. Form a sustainable supply chain for my eco friendly wedding stationery
I use UK suppliers and manufacturers wherever possible, to minimise delivery miles. I carefully choose suppliers whose ethics and environmental credentials align with my own. Ordering in bulk, whenever it is sensible to do so, helps to minimise packaging and emissions.
7. Choose ethical and environmentally conscious service providers
I always look for ethical and environmentally responsible suppliers for the services that I need to run my business making eco friendly wedding stationery. For example:
Studio – powered by electricity from 100% renewable sources
Website – hosted using 100% renewable energy
Bank – paperless and ethical
8. Invest in a carbon positive workforce
By Jo is carbon positive. I have calculated the carbon footprint of my business with Ecologi. Each month, on my behalf, they plant 24 trees and remove 1.8 tonnes of CO2. You can visit my forest here and even plant your own trees there if you'd like!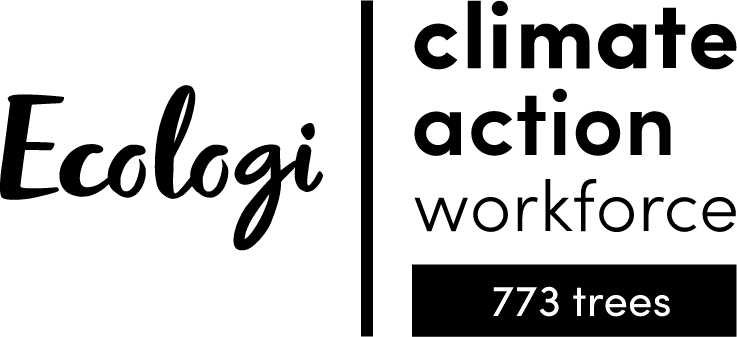 9. Commit to transparency and continuous improvement
I always try to improve the way I work and to reduce my environmental impact. Every decision I take is with the best of intentions, based on the knowledge I have at the time. I don't always get it 100% right, but I do commit to always being transparent about my products, materials and processes. If I find a better solution at a later date I will change.
I've written a blog about why I've decided to make these commitments and become a more sustainable wedding business.
Weddings shouldn't cost the earth
I am passionate about preserving our planet for the next generation. I believe we all have a responsibility to: consume consciously, minimise waste and be mindful of the environment in everything we do.
If you have any questions about my commitment to creating eco friendly wedding stationery please do get in touch. I'm always happy to talk about the materials that I choose and the processes that I employ to make my business as sustainable as possible.
Read my latest blogs about sustainable weddings and eco friendly wedding stationery
---
I introduced these commitments from 1st January 2021 and they will apply to all new orders placed on or after this date. I will make any process changes as soon as I can. Any stock I have will be used before being replaced eco-friendly alternatives. I will honour all orders and designs created prior to this date. If required, I will purchase further materials (not compliant with this policy) to complete them.
*Source: https://www.theguardian.com/environment/2009/mar/29/green-weddings